Exterior Finishes
Exterior finishes include:
Cement board sidings
Exterior stuccos
Brick
Stone
Insulated Exterior Finish Systems (a combination of cements polymers and nylon fabric applied to a 1-3 inch insulation)
I.C.F.S. cut down on energy cost and have 30+ year warranties on the products. Many of the newer products that make up exterior finishes exclude any wood by-products. They are manufactuered from reconstituted materials, are light weight and fire proof.
Fiber Cement Siding
Cedar Impression Shakes:
CertainTeed Weather Boards™ product features True Texture™ for authentic wood grain appearance in weather-resistant engineered fiber cement. There products are further protected by FiberTect,® their proprietary primer/sealer that is engineered to seal against moisture.
CertainTeed Weather Boards is backed by an industry leading 50-year product warranty with 2-year SureStart™ protection that covers both labor and materials.
CertainTeed's proprietary ColorMax® Finishing System provides a spectrum of prefinished design possibilities with 22 attractive solid colors and 6 natural wood stains.
Our paint is factory-applied for maximum consistency and performance, and allows for faster job completion. ColorMax solid colors and stains have a 15-year limited coating warranty.
http://www.certainteed.com/freedomofchoice/compare-products.aspx
CertainTeed help simplify the siding selection process. Express yourself. Make the most of your investment.
The Beauty
The integrit deep, authentic grain. Fiber cement is an excellent cladding material and provides high-end resale value, but the brand you choose can impact how aesthetically pleasing your home is from the curb to the front porch. A level of style that begins with the head-turning ColorMax Finishing System and continues with the feel of TrueTexture, an innovative system that delivers authentic wood grain through a direct transfer system from real cedar boards.
"Preferred by 2 out of 3 consumers"
CertainTeed was the first to produce siding utilizing a direct transfer system from real cedar boards for natural looking wood TrueTexture finishes. Recent survey results prove that 2 out of 3 people prefer the TrueTexture wood grain appearance of CertainTeed WeatherBoards fiber cement siding, over a leading competitor.
Return on Investment
According to a 2012 nationwide review by Remodeling Magazine, for the 6th year in a row in terms of cost versus value, fiber cement siding provides nearly an 80% return on investment, higher than any home improvement costing more than $1,300.
Architectural Accuracy
From Colonial to craftsman, modern to Victorian, historic wood cladding designs are easily reproduced using the wide variety of Weatherboards profiles, shakes and panel's Attractive trim and accessories enhance your ability to add unique finishing touches.
Superior Design
Weatherboards repeats the pattern every 48 planks, which means a 20x24-foot wall will have a maximum of only two repeats—the best in the industry.
Stucco System
Stucco or render is a material made of an aggregate, a binder, and water. Stucco is applied wet and hardens to a very dense solid. It is used as decorative coating for walls and ceilings and as a sculptural and artistic material in architecture. Stucco may be used to cover less visually appealing construction materials such as concrete, cinder block, or clay brick and adobe.
The difference in nomenclature between stucco, plaster, and mortar is based more on use than composition. Until the latter part of the nineteenth century, it was common that plaster, which was used inside a building, and stucco, which was used outside, would consist of the same primary materials: lime and sand (which are also used in mortar). Animal or plant fibers were often added for additional strength. In the latter nineteenth century, Portland cement was added with increasing frequency in an attempt to improve the durability of stucco. At the same time, traditional lime plasters were being replaced by gypsum plaster.
Stucco used as an exterior coating on residential buildings.There are many different finishes as noted below:
Traditional stucco is made of lime, sand, and water. Modern stucco is made of Portland cement, sand, and water. Lime is added to increase the permeability and workability of modern stucco. Sometimes additives such as acrylics and glass fibers are added to improve the structural properties of the stucco. This is usually done with what is considered a one-coat stucco system, as opposed to the traditional three-coat method.
Lime stucco is a relatively hard material that can be broken or chipped by hand without too much difficulty. The lime itself is usually white; color comes from the aggregate or any added pigments. Lime stucco has the property of being self-healing to a limited degree because of the slight water solubility of lime (which in solution can be deposited in cracks, where it solidifies). Portland cement stucco is very hard and brittle and can easily crack if the base on which it is applied is not stable. Typically its color was gray, from the innate color of most Portland cement, but white Portland cement is also used. Today's stucco manufacturers offer a very wide range of colors that can be mixed integrally in the finish coat.
As a building material, stucco is a durable, attractive, and weather-resistant wall covering. It was traditionally used as both an interior and exterior finish applied in one or two thin layers directly over a solid masonry, brick or stone surface. The finish coat usually contained an integral color and was typically textured for appearance.
Q: Are plaster, stucco and EIFS the same?
A: While there are several parts of the North America where stucco always has a strong presence, there appears to be a general renewed interest in Portland cement plaster for building finishes everywhere. We are often asked if stucco and plaster are the same thing, and if plaster and EIFS are the same thing.
The answer requires a thorough explanation. Plaster is the general term
for material that is applied to ?a wall surface in a thin layer. Portland cement-based plaster is such a material that uses portland cement as the binder. It is sometimes called "traditional stucco." Stucco is a somewhat colloquial term for portland cement plaster, and some people consider it to refer to an exterior, not interior, finish. EIFS stands for exterior insulation and finish system, which is sometimes (incorrectly) called "synthetic" stucco. To complicate matters, "plastering" is the verb that describes the action of applying any of these various materials to a wall surface.
Portland cement plaster is applied either by hand or machine to exterior and interior wall surfaces in two or three coats. It may be applied directly to a solid base such as masonry or concrete walls, or it can be applied to metal lath attached to frame construction, solid masonry, or concrete construction. Applied directly to concrete masonry, portland cement plaster provides a tough 1/2-in. thick facing that is integrally bonded to the masonry substrate. When applied to metal lath, three coats of plaster form a 7/8- in. total thickness. A vapor permeable, water-resistant building paper separates the plaster and lath from water-sensitive sheathing or framing. Portland cement plaster has high impact resistance and sheds water, but breathes, allowing water vapor to escape. It's a proven system that works in all climates.
EIFS consists of a polymer-based laminate that is wet-applied, usually in two coats, to rigid insulation board that is fastened to the wall with adhesive, mechanical fasteners, or both. Polymer based (PB) systems, sometimes known as thin coat, soft coat, or flexible finishes, are the most common. The basecoat for PB systems is usually 1/16 in. thick and finish coat thickness is typically no thicker than the maximum sand particle size in the finish coat.
EIFS experienced performance problems in the 1990s, They receive a bad rap because of installers and contractors that cut corners in the installation process which included , water leakage and low impact resistance.Contractors should of used the proper backrap details caucking and flashing were needed. While the PB skin repels water very effectively E.I.F.S Systems need the proper details.
Clearly, Portland cement plaster should not be confused with the exterior insulation and finish systems. The systems may share similarities in application techniques or final appearance, but they systems perform differently in resisting weather, especially wet conditions.
E.I.F.S. (Exterior Insulation and Finish Systems)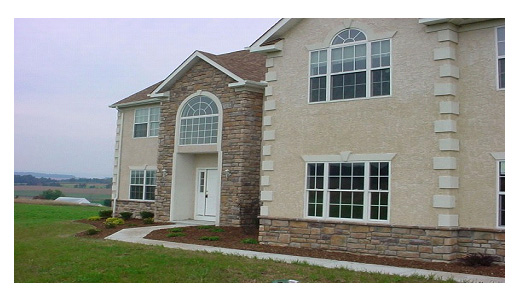 Exterior insulation and finishing system (EIFS) is a type of building exterior wall cladding system that provides exterior walls with an insulated finished surface and waterproofing in an integrated composite material system.
Although often called "synthetic stucco", EIFS is not stucco. Traditional stucco is a centuries-old non-insulating material which consists of aggregate, a binder, and water, and is a hard, dense, thick, non-insulating material. EIFS is a lightweight synthetic wall cladding that includes foam plastic insulation and thin synthetic coatings. There are also specialty stuccos that use synthetic materials but no insulation, and these are also not EIFS. A common example is what is called one-coat stucco, which is a thick, synthetic stucco applied in a single layer (traditional stucco is applied in 3 layers). There is also an EIFS-like product called a direct-applied finish system (or DAFS), which is essentially an EIFS but without the insulation, and has quite different characteristics.
Because there are so many application, that can apply to E.I.F.S Systems, call your local Manufacture's representative, for the correct application for the product and insulation attributes.
EIFS are proprietary systems of a particular EIFS producer and consist of specific components. EIFS are not generic products made from common separate materials. To function properly, EIFS needs to be architecturally designed and installed as a system.
There are a number of versions of EIFS. The most basic and common EIFS is called a barrier EIFS (also known as a traditional or conventional EIFS). Another type is called an EIFS with drainage, which is a barrier EIFS to which a water drainage capability has been added.
Just a few of the Exterior Finishes you can apply:
Insulated Brick Systems
There are many ways to install thin brick. How to choose the right one depends on many factors. Some factors include:
Installation techniquest and materials that best fit your project.
Skill level of the individual installing thin brick vaneer.
Interior or exterior use of product.
The simplicity, speed, and efficiency of the veneer insulated brick system makes it the perfect choice for professionals who want to save time and money on labor.
Thin brick veneer is popular as a more affordable and undemanding option to conventional bricks. Thin brick veneers are prepared from the same composite that is used in creating false roofings for homes and offices. Thin brick veneers are an option in the niche of brick veneer panels, being a bit thinner than the usual panels. It is important to get acquainted with the advantages of this wall-covering option.
Ease-of-Installation Thin brick veneers are usually retailed specifically for interior walls and are very easy-to-install. Homeowners can install these using basic supplies without professional help. Most significantly, thin brick veneers can even been installed in areas where conventional brick veneers cannot be installed, i.e. due to lack of basic structural support.
Ease-of-Maintenance Thin brick veneers are also easy to replace. They are retailed in standard sizes and a replacement is easily available at hardware stores. These veneers require fewer maintenance costs and regular cleaning is not required. They don't fade and are chemically inert with most household chemicals.
Greater Durability Thin brick veneers are more durable than other choices in the niche of brick-like wall coverings. This includes imitation bricks. Imitation bricks are prepared from materials like gypsum and cement or certain varieties of plastics. These units are not as durable as brick veneers. Thin brick veneers also offer the best of sound-proofing and fire-resistance performance when compared with other, non-masonry options.
Man Made Stone Products
Stone Ledger Panels designed to significantly simplify the installation process by pre-affixing several rows of trimmed ledger stone pieces of varied sizes into one panel. These panels easily fit together much like the pieces of a puzzle. These panels come sized 6" X 24" and represent a host of color patterns found within earthen stones such as Quartzite, Slate, Travertine and Sandstone. The panels come in two styles: Ledger Stepped Panels or "L" ledger stepped panel corners that will beautifully finish off the 90 degree angles of your outside corners.
http://brickit.com/stoneType.asp#links
Antico Elements is committed to the process of manufacturing bold and stylish Faux Stone Panels, Rock Panels, Dry Stack Panels and decorative moldings. It takes pride of over 35 years of experience. Attention to detail is a hallmark of this business and we take great pride in creating products that rival the look and feel of natural stone but at a fraction of the cost.
http://www.fauxpanels.com
Realistic brick panels will add an incredibly natural brick look to any surface.
When builders, home owners, contractors and designers reach the limitations or cannot cope with the costs of real or even thin brick, they turn to Antico Elements for a more affordable and reliable version of this beautiful material. Creating a wall of imitation brick does not only make it a viable solution to anyone but it drastically reduces the cost of any DIY project or even large constructions. These will create an enormously better look that brick wallpaper.
Great Brick panels are designed to interlock on all sides to create a seamless look. They are designed for Indoor and Outdoor uses. Even though the installation is very simple, make sure to read the instructions in order to avoid problems and gaps with these types of faux panels.
Always try to keep the faux panels leveled. The walls should be dry and free of dust. Some of the fasteners and adhesive should be used where the panels and lips overlap.
Our products can be installed Indoor and Outdoor, directly over framing, drywall, brick or concrete.

For indoor all you need is adhesive and wood screws.
For outdoor you might need an outdoor grade adhesive and galvanized screws. Some caulking may be needed.
For brick, concrete, cinder blocks and similar you will need masonry screws, like "Tapcons".
Simplified Installation of Man Made Brick
It is always a good idea to temporarily lay out the faux brick panels around the project to plan which / how faux panels will be cut and which will not.
We recommend that you install the panels from right to left unless you plan to use corner pieces ( see below ). For better results marks some horizontal chalk lines on the wall to keep your panels leveled.
Position the panels so that the horizontal lip is at the top and the horizontal notch at the bottom.
To start, the right side of the first panel should be trimmed, removing the fingers and creating a straight edge.
Cut the right fingers of the first panel.
Apply a few lines of adhesive in the back and where the panels overlap / interlock and fasten the panel to the wall using screws, nails or long brad nails.
Apply adhesive.
Continue with the rest of the panels of the first row. If the faux brick panels terminate against another wall, simply cut the panel to size. The exposed edges will be hidden by the next wall. It is always better to mark your dimensions in the back of the panels.
If you have an outside corner wall and need to wrap around it with our faux brick, you have at least 2 options. Using our Corners or Mitering the panels' cuts.
Use our faux bricks corners.
Using our faux brick corners
When using the Outside Brick Corners we suggest starting the installation from one of the corners, and not from left to right on a wall, as mentioned at the top of this page.
Installing the left side will be easy. Installing panels on the right side of the corner will require lifting the previous panel a bit to squeeze the next one in. Not a big problem.
When using multiple corners you will notice that at one side of the wall you will interlock panel-to-corner easily and on the opposite side some "jig-sawing" will be necessary. In this case you should not install all the corners first. See Image below.

Trace the fingers of the corner on the panel

To accomplish this, simply cut the last panel on that wall straight with the corner of the wall.
Place the corner on top of the panel and trace the fingers of the corner on the panel with a pencil.
Remove the corner and with a jig saw create the matching fingers on the panel so that the two parts will interlock.
Now you may install the last panel and this corner piece. On the other side of this corner you can simply interlock your next panel, the "fingers" will match without having to make custom cuts.
Repeat this method for each corner, where panels are installed between corners.
Create a mitered corner with a panel. For more on this type of cuts see: How To Create A Mitered Corner. You can use a faux brick panel to wrap around a corner.

Cut a panel at 45 degrees.

One important note: Always use the two pieces of one panel for the left and right side of the corner so that the brick will match at the tip.

Finished mitered corner.

When installing multiple rows of panels make sure to start the second and every other row, with half panel so that the seams will be staggered and you be able to use more of the left-over pieces.
For the top edge of the panels, we have really nice Ledge Trim that are meant to nicely sit on top of a panel.

Ledge trim

For exterior application we suggest caulking the edges where water could penetrate.