Remodeling
Home Remodel
Typical Questions when remodeling
When can you start after we sign a contract?
When will you finished the project?
Will you give us a schedule and maintain it?
What time do your crews start each morning?
Do you pick up and clean each day?
Do your personnel dress and act professionally?
Can you finish before (insert any major holiday or significant family event)?
Will all your project leaders speak in English?
How do you start the Process Remodeling or Renovating your home?
Research: Start by researching remodeling books and magazines of similar home project styles that you envisioned.
Budget! How do you start developing your Budget? You can start by selecting the entire product list that you want in your addition. Click on the "Virtual Home Show", review all the items you need in your remodel, and select one of the three products in each category.
If your budget allows, call an architect or designer and give them your preliminary specification list and a preliminary sketch for your requirements if you're adding space to your home. We have three local architects or designers to start your search.
If you have hired an architect or designer, take the plan and your specification and give it to a qualified contractor or construction manager. Ask them to submit a proposal that meets your product specification and plans. Make sure your remodel contractor provides any local permits if you are making structural changes to your home, in his or her proposal.
Make sure all subcontractors are licensed and require each contractor involved to give you a Waiver of Lean at each payment.
If you feel that you're not qualified to inspect the work throughout all phases or when it's complete, hire a third party inspector. This can be the architect, designer or an independent inspector.


Before you start anything make sure you anticipate some chaos. In order to eliminate as much as possible, set up a schedule and live by it. Make sure all material suppliers, subcontractors and personnel are aware of your schedule.

Make sure your contractor has given you a copy of all material and equipment warrantees and most important, issued a one year minimum warrantee on the total project.
Remodel Contractors in the Atlanta Market
Stoll Service Group
Phone: 678-925-1873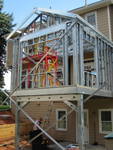 ---
Sawhorse Inc.
800 Miami Circle NE Suite 220A
Atlanta, GA 30324
(404) 256-2567
information@sawhorse.net
---
WhataWorker Inc.
770-601-3619