Concrete Basement Walls
Masonary Block Walls - Builder's Grade
Mason construction can be utilizes for complete Construction. In some parts of Florida , The structural integrity is required for wind load. Masonry is the building of structures from individual units laid in and bound together by mortar; the term masonry can also refer to the units themselves. The common materials of masonry construction are brick, stone, marble, granite, travertine, limestone, cast stone, concrete block, glass block, stucco, and tile. Masonry is generally a highly durable form of construction. However, the materials used, the quality of the mortar and workmanship, and the pattern in which the units are assembled can significantly affect the durability of the overall masonry construction.
Advantages of Masonary Construction
The Facts-masonry framing is vastly superior to wood framing in several respects. Concrete masonry framing offers the ultimate in safety, strength, durability and Habitability:
Resistance to hurricanes, tornadoes and other weather-related phenomena since the entire structure is tied together from the footings to the roof assembly with steel reinforcement, achieving a a natural strength of 400 pounds per running foot compared to just 80 pounds for wood framing.
Resistance to fire and termites
Resistance to sound transmission from traffic and other noise sources--the sheer mass and weight of concrete masonry walls can reduce sound penetrating through a wall by over 80 percent when compared to wood-frame construction.
Lower homeowner maintenance costs since masonry won't rot, peel or flake
A reduction in energy bills of 40-60% compared to wood-frame homes
Savings of up to 25% on homeowners insurance premiums.
Disadvantages of Masonary Construction
Although brick-and-mortar construction provides the look and feel of sturdiness, these materials also have many drawbacks that prevent many home owners from using masonry to construct their building or home.
One of the first disadvantages of building with masonry is the high cost of both materials and labor. While wooden homes have materials that can be purchased at many home supply stores.
Brick, stone and other masonry construction involves products that are extremely heavy, cannot be delivered in a conventional vehicle and often must be ordered from a special catalog.
The expense of selecting and moving the materials is compounded because masonry construction cannot be conducted in a heavy rain or under freezing conditions.
Installation requires excessive construction time and manpower with highly specialized skills.
Maintenance Once built, of course, a brick or stone home exterior provides a beautiful façade year round. This luxury exterior, however, is also expensive after the initial construction and requires a rigorous maintenance schedule to keep it looking as good as new.
Foundation for stability. This means that as the house settles, cracks can form that can let in moisture. If these cracks are not repaired, the resulting moisture intrusion can cause structural problems up to and including collapse of the damaged portion of the building.
Insultated Concrete Forms - RCM Option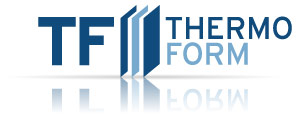 TF Systems is a leader in the Insulated Concrete Forms (ICF) industry with a 15 year track record of proven success. TF invented the first Vertical ICF system in 1996 and has continually evolved and improved on the original vertical concept resulting in the Thermoform System® in wide use for residential and commercial projects across North America and abroad.
Most recently TF introduced an entirely new concept in concrete forming with the revolutionary Transform System™. Transform combines the best of our Thermoform vertical ICF concepts with the flexibility and industrial strength of traditional concrete forms. Best of all, Transform provides the added flexibility to pour traditional non-insulated concrete walls, super-insulated walls, or any combination; all with a forming system that is lighter, lower in cost, and more comprehensive than virtually any forming system on the market.
TF's original forming system that brought vertical ICF to the concrete industry. Our latest improvements make it even more effective and easy to use. Homeowners, small to mid-size commercial projects and Habitat for Humanity are major users of the ThermoForm product.
Construction Costs & Project Schedule
The construction industry is renowned for running behind schedule. TF Concrete Forming Systems believes this shouldn't be the case. We designed our forms to give the builder a lead over competitors. By allowing pours in hotter and colder temperatures than other forms allow for, TF forms can extend your build season.
With TF forms, you will complete the project faster while cutting costs.
How?
Pex tubing that can be run through our forms allows the builder to run cool or warm water through the concrete forms immediately after a pour, keeping the concrete at optimal temperature during hydration. The result is stronger concrete and an extended building season.
Our forms are also sturdier than others, reducing the chance of collapse on a windy day, giving you peace of mind and a cost and time benefit over your competition.
TF's vertical systems also install 33 percent faster than block based horizontal ICF systems. They require less bracing and external cladding than block systems and virtually eliminate the risk of blow-outs. Walls poured with TF's forms are extremely straight and true eliminating the floating, shifting and settling problems of block based systems. You can pour with confidence and eliminate much of the time consumed with external support, cladding and taping often required for block ICF systems.
In addition rails and panels for our systems are delivered precut for your required wall heights greatly reducing waste, materials' costs, time for cutting-to-size and site clean-up requirements. TF's vertical systems are also easy to learn and install. The vertical orientation is intuitive to construction workers mimicking both traditional frame construction
TF's latest design, fully scalable for residential and commercial building, can operate as either a traditional traditional removable form system, an integrated ICF system, or any combination of both. High-end residential and commercial projects are typical Transform us.
Advantages of T.F. Systems
Energy Efficiency.
Drastically reduces energy costs
Save on Life Cycle Costs
Leaves little waste
High Thermal Value
Low maintenance
High Thermal Value
Superior R-values greatly reduce heating and cooling costs
Produced with recycled materials
Saves precious energy resources
Energy
Insulated concrete homes use sharply less energy to heat and cool—an estimated 40 percent less for heating and 30 percent less for air conditioning. This translates into monthly savings, an indoors with a more even temperature and fewer drafts, prevention of airborne contaminants, and a green building that is friendlier to the environment. An insulated concrete home is a pleasure to you and a benefit to the planet.
Architectural Advantages
Design flexibility for customization
Arches
Step Footings
Parapet Wall's
Accommodates dramatic window feature
Strength & Durability
The walls of an insulated concrete home are steel-reinforced concrete. Its strength far exceeds conventional construction. The insulated concrete home stands up much better to disasters like high winds. The walls won't settle, creak, warp, rot, mildew, rust, or even vibrate when you slam a door. The materials don't provide food for insects, mold, or vermin. Insulated concrete home walls are so dense they cut the amount of sound that comes in from outside by over half. Surround yourself in solidity
Disadvantages of System
Shipping of product, as a result of plant location, needs to be monitored
Concrete Need an experienced crew to perform Installation of product. Concrete Must be pumped because of mix required. Adding cost to the project.
Superior Wall Systems - Green Option
Today's Smart home buyers and builders demand Walls that increase the value of today's new homes while simultaneously increasing building precision, strength, and speed.
Superior Walls is a world leader in custom residential precast concrete foundation systems since 1981. That's because building on a Superior Walls foundation assures architects, builders, and new home buyers their new home will create added new living space which remains dry and warm — while simultaneously meeting or exceeding the industry's most stringent new green building home standards.
Today's smart home buyers care about creating comfortable lifestyles — while adding dramatic new living space and lowering their energy costs. That's why Superior Walls are in demand worldwide as the superior foundation for every new custom home.
Discover why Superior Walls are renowned for creating added value and durability for every new home design. Discover what smart architects, builders and consumers are saying about building and living with Superior Walls: "the highest quality, the most advanced, the strongest materials, precision design, the most efficient foundation on earth, the warmest and driest foundation, the most green, is the Superior Advantage.
Superior Systems Advantages Include:
Provided with 2-1/2" of insulation = R-12.5
5,000+ PSI concrete
Steel reinforced with rebar and polypropylene fibers
Pre-cast access holes for wiring and plumbing
Thermally isolated/insulated from exterior
Insulated corners, studs and bond beam
Monolithically poured for maximum strength
Galvanized steel stud facing
Option to insulate up to R-50+
No additional damp-proofing required
Pre-cast openings for doors and windows
Reduces building time
Most projects can be installed in one day. Ready in virally any weather
No footers
Disadvantages of Superior wall systems:
Wall systems have to be shipped via Truck adding cost.
Addition time is needed in order to plan in advance.
Cost may exceed poured in place systems.
Because a Crane is used ,in installation, experienced operators are needed.
Damage may be caused to panels durning installation or transporting.